Logistics and distribution
Logistics and distribution
Variety of a type of unstable load
Some of the characteristics of the sector
The logistics sector is becoming more and more important, which is required to meet ever more stringent standards. Delivering the goods in record time and receiving them in perfect condition are the new challenges.
ADAPT TO TRANSPORT
Use of manual or electric pallet trucks, with little lift
MIXED LOAD
Picking processes with mixed load pallets and different heights
UNSTABLE LOAD
Very unstable pallets
PROTECTION
Need to protect the pallet against theft
Movitec is committed to complying with the strictest regulations to guarantee the stability of loads, cooperating with customers to make them more competitive every day.
ADAPTED SOLUTIONS
Movitec offers a complete range of solutions that complement the wrapping installation and that allow them to be installed at ground level, without the need for civil works, for the entry and exit of pallets with a manual forklift. Among these solutions, we can find turning tables, stackers, load centerers, conveyors with forklift entry, transfer cars, corner protector applicators, etc.
GAUGE CONTROLS
Our wrappers can be manufactured in different heights to adapt them to the necessary height for the entry of very tall pallets. In this type of pallets, our stretch wrappers incorporate extra gauge controls.
ADAPTATIVE SENSORS
Our wrappers automatically detect the heights of the pallets and adapt the wrapping program automatically. In addition, they can be equipped with an incomplete pallet detection to ensure that the pallet is completely wrapped. Depending on the number of packages found in the upper part of the pallet, the Movitec system automatically chooses what tension to apply to the upper part of the load to avoid displacement of the same.
FILM CONTROL
Movitec wrappers are designed to wrap very light and unstable loads through exhaustive control of the tension of the film against the load, which allows wrapping pallets without applying tension, thus guaranteeing the stability of the load and avoiding product deformations in the corners caused by shrinkage of the stretch film.
PROTECTION AGAINST THEFT
Some pallets usually go through different hands or distribution centres before reaching their final destination, in some cases there is a high volume of losses due to theft between transits. Our solution is to combine the application of film with the application of a spiral rope to protect the merchandise from such thefts. This, together with the impossibility of carrying out this type of wrapping manually, makes it very difficult to remove part of the contents of a pallet without showing that the packaging has been tampered with.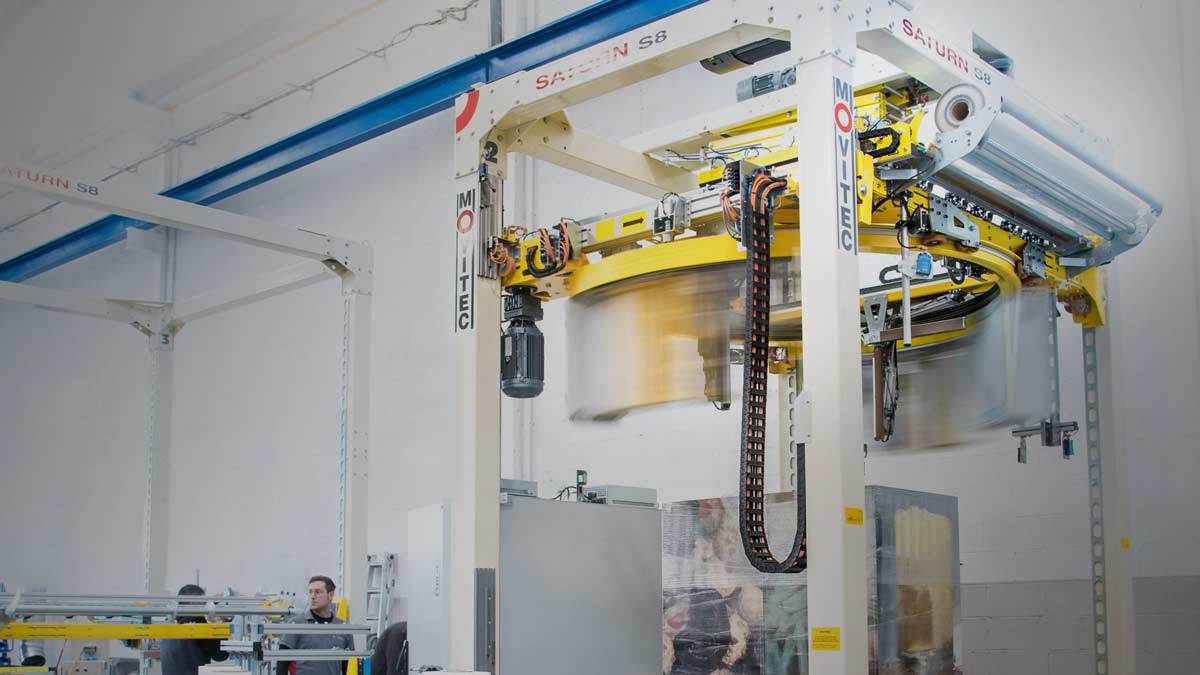 Our clients, our best sales representatives































Pallars Sobirà, 16 – P.I. La Nora
25660 · Alcoletge · Lleida · Spain
GPS: 41º 39′ 21.62" N / 0º 41′ 41.86" E
Tel. +34 973 184 059 · Fax +34 973 184 008


Pallars Sobirà, 16 – P.I. La Nora
25660 · Alcoletge · Lleida · Spain
GPS: 41º 39′ 21.62" N / 0º 41′ 41.86" E
Tel. +34 973 184 059 · Fax +34 973 184 008